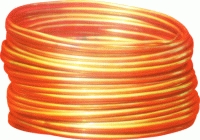 ---The most ideal conductor of Hi-Fi A/V cable. The High Pure Single Crystal copper, made from one grain without any grain boundaries, processed in continuous casting of single Crystal metal. Its excellent mechanical processing and super electricity character enabled it used widely in wires for Electronic communication, audio and video signal transmission, super high-frequency signal, ultra fine connector wire in semiconductor connector, and so on, and this application promote production technical performance greatly.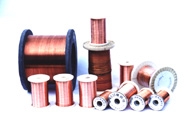 Features High Purity Lower Resistivity Excellent Property for cold working High Elongation Fine and close in Tissue Application: Mainly used to make Hi-Fi A/V Cables, Ultra-Fine Threads, Plugs and lane cables.
Wire is made from casting molten copper into long rods or bars that eventually are drawn through a tiny orifice that creates a copper wire. Copper crystals, generated during rapid cooling in the traditional casting process, act as an impediment to the natural flow of the signal. This is because the random orientation of these copper crystals forms an irregular mosaic pattern that impedes the flow of electrons.
What was needed was a single crystal copper casting process.
In 1986 the Continuous Casting (OCC) process was introduced to the world. High Pure single crystal Copper was developed by professor Ohno of the Chiba Institute of Technology in Japan. OCC is a single, long grain copper structure built by using a heated mold, that solves the rapid cooling process problems. The results are small rods of pure copper, from which the wire can be drawn and we get single copper grain of over 700 feet in length!
In 2000, The technique of SGSS continuous casting of single Crystal meta, a new process to make wire, got great success in our Factory named Single in China,. cooperated with China Famous Lanzhou University. It has a characteristic of making a long metal wire with single crystal. The single crystal copper round rod is only made from one grain, the grain boundary does not exist. The multiple crystal copper round rod is made from innumerable grains, The grain boundary exist between grain and grain. All of the upcast OFC (oxygen free copper) and SCR oxygen low copper are multiple crystal copper
High Pure Single Crystal copper is superior to OFC copper in the same construction cable. It's a much more expensive but it's worth the extra expense as we believe we have generated a far superior interconnect using SGSCC materials in the conductors.
Though making a study of boundary theory, It is known that the grain boundaries especially vertical conductor's axis are equal to a series of condensers in series. When the audio and vedio wave of any frequently range pass through the grain boundaries, these grain boundary condensers must be charged and discharged, and the wave can be reflected and reflected at the same time. As a result, the shape of a wave is out of original shape and the energy of wave is attenuated. The change of shape and energy of the signal wave influence the quality of signal transmission.The signal is not true to the original, and the distortion is CCD(Cross Crystal Distortion).
The experiment proved the influence that the grain boundary of wire conductor does harm to audio signal transmission, though the electrical conductivity of noncrystalline mercury(Hg) is one tenth of copper, the quality of audio signal transportation is satisfactory. The theory of grain boundary doing harm to audio signal transportation is approved by people of the Hi-Fi world. They are of the same view that single crystal wire without grain boundary is most ideal wire, a lot of famous HI-Fi cables are made from single crystal copper. It is accepted that the single crystal copper is the most ideal conductor of Hi-Fi cable by more and more people of the Hi-Fi world.
Up to now, the SGSCC single crystal copper has been made into Hi-Fi signal cables. Speaker cables, microphone cables, guitar cables and plugs, and these cables are sold well all over the world. The sound effects of these Hi-Fi cables is remarkable. The background of tone quality is quiet, the timber is exquisite and sweet. The difference of sound effects between high frequency ban and low frequency band is clearly. The diaphaneity, bloom, ambience and space perception of the sound are excellent. These Hi-Fi cables have come to the world standards of best quality wire and thousands of Hi-Fi lovers are keen on them.
Now the OCC copper wire coated with Teflon, PE or enamelled is available.